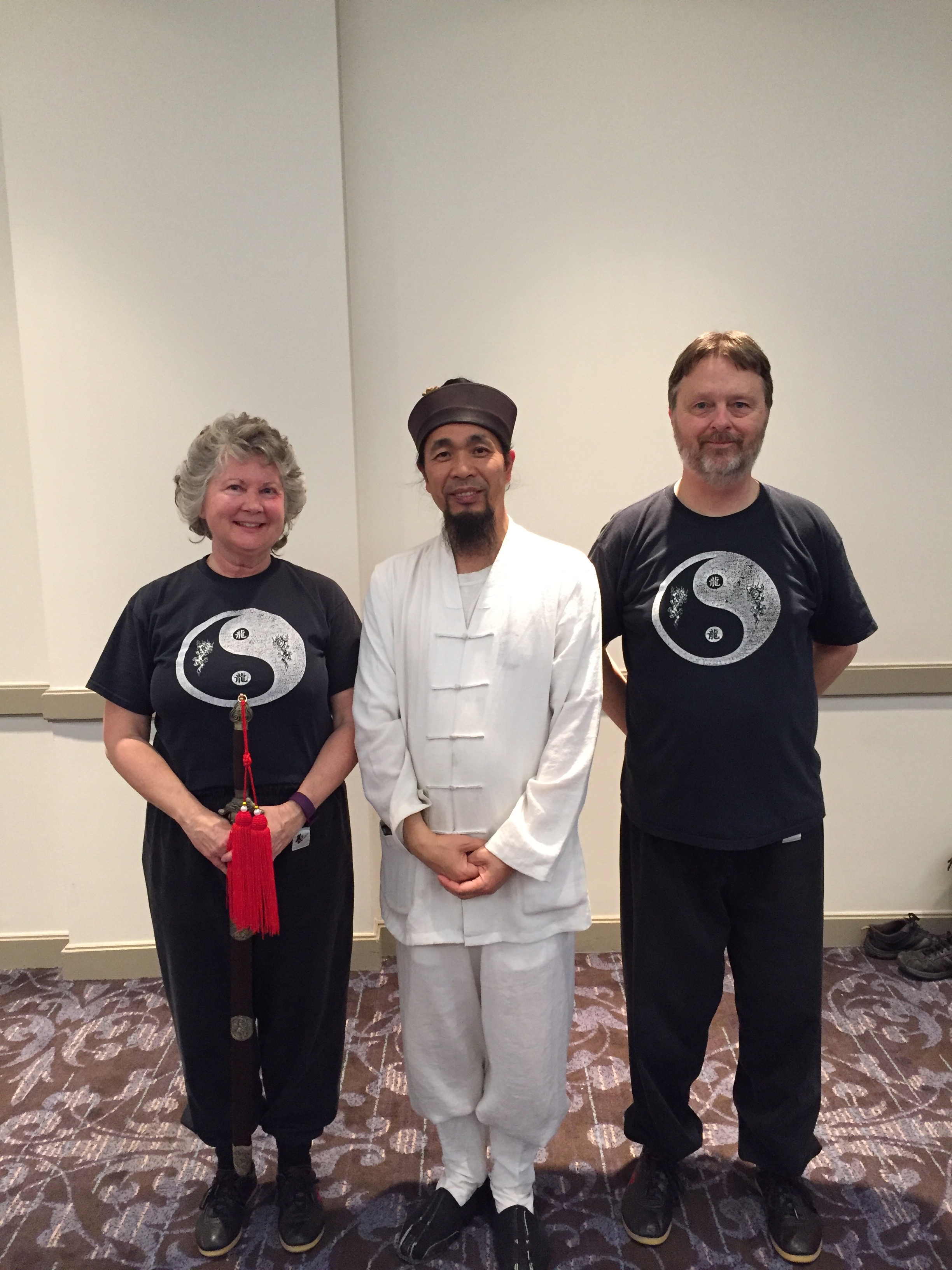 Our Approach
We believe that focusing on the basics and taking time to learn the forms and movements correctly are critical to everyday health and longevity. It's important that each student be allowed to progress at his or her own pace. We encourage each student to make the "100 Day" commitment. Practice everyday for 100 days and you will see benefits in your muscle strength, flexibility, balance and your overall physical and mental health.
Our History
We both started training in Tai Chi in 2010. Since that time we have been blessed to have trained with 3 of the Atlanta area's finest teachers and to have attended Master Yun Xiang Tseng's (Chen) seminars for the last 7 years.
Below is a listing of our training and a brief lineage of our teachers.
Our Training
Dr. Paul Lam's Tai Chi for Osteoporosis, Yang 10 Form, Yang 24 Form, Yang 108 (85) Form, Wudang 13 Form, Wudang Squarefoot Form, Yang 32 Sword Form, Wudang 64 Sword Form, 26 Step Sword-in-a-Box Form (from Mei Zhong Yang Style Taijiquan Assoc.), Tai Chi Qigong Shibashi Part 1, Tai Chi Qigong Shibashi Part 2, Ba Duan Jin, Ma Wang Dui Dao Yin Shu, Primordial 1, Primordial 2, Primordial 3, Wu Dang Hun Yuan Huo Gu Yang Sheng Gong, External Qi Healing,  Xiang Gong - Fragrant Qi Gong, Zhong He Gong, Seated Tai Chi, Long Men Qigong, and we are still attending weekly training sessions and yearly seminars to keep our training up-to-date.
Our Lineage
Yang Style Tai Chi - 10, 24 and 108 Form
Jude Hasken
Our teacher for Yang Style
Jude began his study of Tai Chi with Master Marshall Ho in 1976. He studied Yang style Tai Chi 108 Forms and was introduced to Qi Gong. In 1995, Jude moved to the Atlanta area and since then has had the great good fortune to study with Grandmaster Tingsen Xu and Master Yun Xiang Tseng (Master Chen.) With Dr. Xu, Jude has studied both the Tai Chi 24 Forms and the Tai Chi 108 Forms. Jude is continuing his study of Qi Gong with Master Chen. He is certified to teach Tai Chi 24 Forms and is a member of the North American Wudang Taoist Association.
Jude assisted Dr. Xu with the study of the benefits of Tai Chi for Parkinson's Patients conducted at Emory University. He also assisted Dr. Xu in introducing the Tai Chi 10 Forms to Emory University students. He is a member of Dr. Xu's Tai Chi Health and Research Association. Under Master Chen's guidance Jude has developed an increased awareness of the nature of Qi and its importance to Health and Longevity.
Our Lineage
Wudang Style Ti Chi, Qigong, Dao Yin, Energy Healing
Corinne Chaves
Our teacher for Wudang Style Tai Chi, Qigong, Dao Yin, Meditation, and Energy Healing
From Corinne's Web Site: http://corinnechaves.com
Corinne's passion is to introduce ancient healing practices to people so they can rebuild, strengthen and transform their essential energy and experience radical health improvement. Twenty years in corporate America gave Corinne an enviable edge with technical, people and management skills. However, she realized that the lifestyle was not healthy or sustainable. So, when her defining moment came, Corinne chose the "path less taken", following Daoist priest, Master Yun Xiang Tseng, continuing her path of transformation.
Student
Corinne has been blessed with opportunities to study with true masters from traditional yogic and Daoist lineages. She began her journey of transformation at the age of fifteen with the study of yoga, which she pursued over the next thirty years. In 2002, while on the path to becoming a yogic priest, a friend invited Corinne to attend a lecture by internal martial arts and alchemy master, 
Master Yun Xiang Tseng
. Their immediate connection opened the doorway to the study of Daoist internal arts and healing practices, Qi Gong and Tai Chi among them. The years of yoga practice had prepared her for the rigor and depth of Master Tseng's teaching. This tutelage took Corinne to a place inside that led her to commit to following her teacher in his travels, as is traditional in this school. 
Over several visits, she spent the total of a year in China refining her skills and ultimately won Gold in the Women's Weapons division at the 5th International Wu Dang Tai Chi Competition in China in 2011.
Teacher
Corinne has always been a teacher, beginning as a graduate teaching assistant in mathematics and computer science, and later introducing leading edge technologies and business innovation, she taught individuals, large and small groups and eventually was a visiting lecturer in Business and Philosophy at different universities. Simultaneously, Corinne began teaching yoga in college, establishing her own classes beginning in 1996. By integrating her extensive yoga, Qi Gong, Tai Chi, philosophy and internal alchemy training with a study of Asian bodywork, she now brings ancient internal practices for improving health and increasing the quality of life. Her students thrive under her attention, patience and great caring. Her self-deprecating humor (yes, it is a bit British and dry) and sharp insight give a glimpse into her lifelong journey of self-discovery and transformation. Corinne's teaching stories illuminate the healing process and demonstrate her understanding of the challenges along the path.
Healer
From early childhood, Corinne has had a healer's inclination and intuition. Today, as an intuitive and highly skilled healer with a deep knowledge of the body and its internal energy patterns, she directly addresses the issues that her clients bring to the table. Through application of her skills she opens blockages allowing healing energy to flow naturally throughout the body. These skills also bring a uniquely relaxing as well as energizing quality to her bodywork.
Wanderer
Switzerland, China, Belgium, and Spain. These are some of the places Corinne has called home. Living in so many different cultures has given her an appreciation and understanding of human nature beyond cultural constructs. This gives her a unique ability to relate to the diversity of people who come across her path.
Certifications & Affiliations
Senior Qi Gong and Tai Chi Instructor: 2004, 2008, 2010 Chi for Longevity
26th generation Long Men Pai (Dragon Gate Sect) initiate (2006-present)
External Qi Healing: 2006 Chi for Longevity
Massage Therapy: Asian Bodywork 2003 Atlanta School of Massage, 2004 NCBTMB, (GA License #MT001468)
Yoga Teacher: 2002 Sivananda Yoga
Michael Issa
Our teacher for Wudang Style Tai Chi - 13 Form, Squarefoot, Yang 32 Sword Form, Wudang 64 Sword Form, and Push Hands.
Michael Issa
Founder, Kaikudo Martial Arts Academy
Internal Martial Arts Director
Host of 'Dao Yin Qigong' on AIB
Michael Issa has been a life-long student of traditional martial arts since the age of six and is now the founder of Kaikudo Martial Arts Academy in Atlanta, Ga.  In 2006, he began training under Wudang Master Yun Xiang Tseng (Chen), a 14th generation Zhang Sanfeng lineage holder and 26thgeneration Longmen (Dragon Gate) Priest (wudangtao.com). Issa has studied extensively under Master Chen in the Daoist arts of Tai Chi, Xing Yi, Qigong and External Qi Healing.  He is certified by Master Chen and "Chi for Longevity, Inc." to teach the Wudang Internal Arts (Certification Link). In October 2011, Issa was elected Team Coach of the U.S. Wu Dang Wushu Association, which sent 20 competitors to Hubei, China for the International Wu Dang Tai Chi Competition.  His team numbered in gold and silver medalist.  Issa, himself, won four gold medals.
Issa is well-known for his easy-to-follow instructions and ability to translate eastern theory into a western context.  Kaiser Permanente hired Issa as a 'Tai Chi Health Coach' to teach tai chi to faculty and staff at the University of Georgia, Athens (article) from 2014 to 2015. Michael Issa is currently the host of a TV show on the AIB Network called "Dao Yin Qigong" (http://www.aibtv.com/daoyinqigong/), where he guides viewers through graceful, stretching movements combined with slow, measured breathing to enhance qi-flow and promote healing.  Issa has been a regular guest speaker on the health benefits of Tai Chi at the CDC, as well as at the "Celebration of Life Conference" in Atlanta, GA for cancer survivors and caregivers.
In addition to studying Wudang internal martial arts, Michael Issa has also contributed to meditation research and published with Dr. Charles Raison and Geshe Lobsang Negi at Emory University's Mind-Body Program.  Their research found direct correlations between meditation practice and lowering the physiological response to stress after only 8 weeks of compassion meditation training.  These findings have great implications in reducing our risk for chronic disease and mental health problems such as depression. During his research at Emory, Issa also studied Tibetan Lojung (compassion) meditation under Geshe Lobsang Negi, a renowned Tibetan monk and Faculty member at Emory University.
Accomplishments
1993 and 1996 Gold & Silver Medalist at the International Taido Championships in Japan
2004 Graduate of the University of Michigan
2004-2005 Fulbright Scholar to Syria
2006 Founder of Kaikudo, LLC.
Certified Tai Chi and Qigong Instructor by 'Chi for Longevity, Inc.'
Certified External Qi Healer by 'Chi for Longevity, Inc.'
2009 Guest Speaker at the Celebration of Life Conference for cancer survivors
Published meditation research with Dr. Charles Raison and Geshe Lobsang Negi
2011 Team Coach of the S. Wu Dang Wushu Association
Winner of 4 Gold Medals at the 2011 International Wu Dang Tai Chi Competition
TV host of 'Dao Yin Qigong' on the AIB
2012 and 2015 Guest Speaker at the CDC, Center for Disease Control
2013-2015 Tai Chi Health Coach for Kaiser Permanente
From the web site: http://atltaichi.com
Master Chen
Head of Wudang Tao Institute - Taoist Priest
Master Chen
Master Yun Xiang Tseng (Chen) was a child prodigy in Chinese martial and healing arts. At the age of six he was chosen by Wu Dang masters, Master Guo Gao Yi and Master Li Cheng Yu, to learn the ancient wisdom of Wu Dang tai chi, qi-gong, meditation and healing. He is of a 14th generation Wu Dang Zhang Sanfeng lineage and a 25th generation Longmen Taoist Priest, and is authorized to practice and teach the authentic Wu Dang Taoist teachings that have passed on in an unbroken living tradition for 700 years. He was given the Taoist name of Qing Zhen.
In 1990, he immigrated from the People's Republic of China to the United States. He now resides in Ft. Collins, Colorado with his wife and three children. Chen has trained many thousands in America and over 10,000 people in China. He has a gift for making these authentic Taoist teachings understandable. He teaches the Wu Dang tradition of Taoism throughout the United States. He has appeared on various major network news stations and has been interviewed by newspapers as well as published articles in national magazines.
A true son of the Tao, Master Chen believes most strongly that only in having an open sharing affection for his students can he impart the great message of peace and hope that he has come to North America to deliver. His teaching is always informed by his knowledge of classical Chinese medicine and his extensive background in Chinese classical literature.
Currently, Chen is the President of Chi for Longevity, President and founder of the Association for Chinese and American Enrichment, Inc. a not for profit organization, and serves as director of Wu Dang Cultural Studies in America. He is the official representative of Wu Dang for the Wu Dang Taoist Association. Chen's mission is to build the first Taoist Monastery in the U.S.
For more information, please visit Master Chen's website at www.wudangchen.com.